Call for Papers From Journal of Management Intelligence
Purpose
Leadership is crucial for organizational success in the healthcare industry. Practitioners and researchers have noted how leadership can impact organizational profitability, team productivity, customer loyalty, and team productivity. They have also noted how, for employees, leadership affects performance, attitudes, and behaviors that are critical for success. However, research on leadership in healthcare is still lacking and several research gaps still need to be filled. The purpose of this issue is to bring together the state-of-the art research on leadership and to analyze its future directions for researchers and practitioners in the healthcare industry.
We welcome studies about healthcare that involve: application/integration of theories from various disciplines such as leadership, management, psychology, organizational studies.
We are also seeking submissions from leadership, management, and organizational studies, but the focal topic of study and data collection, must be applied/conducted in a healthcare or service industry context. The core concepts/constructs being studied may be generic.
Submissions related to the following topics are particularly welcome:
Leadership and organizational performance
Leadership and organizational culture
Leadership and talent management
Leadership and innovation
Leadership and teamwork
Leadership and emotions
Leadership and employee performance, attitudes, and behaviors
Measuring leadership effectiveness
Leadership and customer attitudes and behaviors
Leadership and diversity (gender, ethnicity, national culture etc.)
Dark or toxic leadership
Leadership and ethics
Leadership and errors
Leadership and health and safety
Leadership training and development
Leadership hiring and selection
Journal of Management Intelligence (JMI)
JMI peer-reviewed and published semi-annually, is committed to publishing scholarly empirical and theoretical research articles that have a high impact on the management field as a whole. JMI examines a wide variety of organization decisions, processes, and activities. Theoretical and empirical advances in decision analysis, organizational behavior, marketing, consumer behavior, and leadership theory are evaluated on a regular basis. JMI invites manuscripts in all related areas of business and management.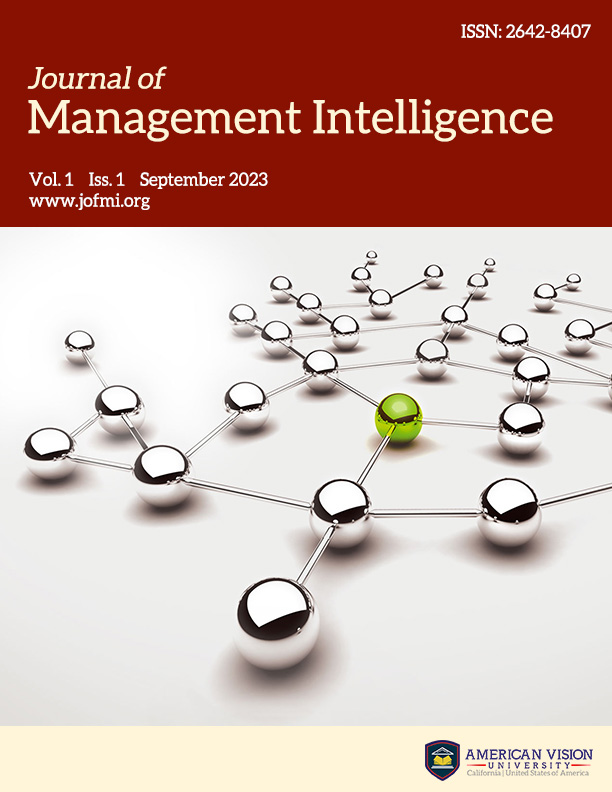 General Information for Prospective Authors
Submitted papers should not have been previously published nor be currently under consideration for publication elsewhere. We are open to receiving research that represents different methods and styles. These include but are not limited to new frameworks using multidisciplinary and interdisciplinary explanations. We also are interested in research that is based on compelling case studies of single or multiple destinations and organizations. For more details and manuscript guidelines, please visit the official website at:
www.jofmi.org
Submission Procedure
Prospective authors are strongly encouraged to contact the issue editors regarding potential topics of interest or any questions/suggestions regarding the issue. Abstracts (up to 750 words) can be submitted online at
www.jofmi.org/index.php/jmi/about/submissions
by June 26, 2020. Abstracts must be concise and to the point, with appropriate references. Full papers must be submitted by March 31, 2021.
Review Process
Each paper submitted to this issue will be subject to the following review procedures:
It will be reviewed by the editors for general suitability for this issue.
If it is judged suitable, three reviewers will be selected for a rigorous double-blind review process.
Based on the recommendation of the reviewers, the editors and the Editor-in-Chief will decide whether the particular paper should be accepted as it is, revised and re-submitted, or rejected.
Timeline
Abstracts Submissions: November 30, 2022
Abstract Decisions: February 28, 2023
FULL Paper Submissions: April 30, 2023
Revisions and Decisions: June 30, 2023
Publication: September 30, 2023